Arizona is Not a Red State
Arizona is not a red state. It's barely even purple. Maybe a bluish shade of violet. Elected representatives should not pretend otherwise.
The consensus of pundits is that Arizona will be a battleground in the 2020 presidential race. It would have been a battleground in 2016 if the Hillary campaign hadn't been too lazy and clueless to do a bit of campaigning. As it was, the #pussygrabber carried the state by a slim margin.
Similar considerations apply to other races. Statewide (Sinema) the Cook PVI is just over R+2. CD01 (O'Halleran) is R+2, and CD02 (Kirkpatrick) is R+1. To put that in context, the typical highly-competitive district is around R+5. Let's be clear: R+0 is not neutral; in fact, it is definitely blue. In particular: in the 2018 election, there were only three Republicans elected from districts that are bluer than R+3. Conversely, there were four Democrats elected from districts that are redder than R+9.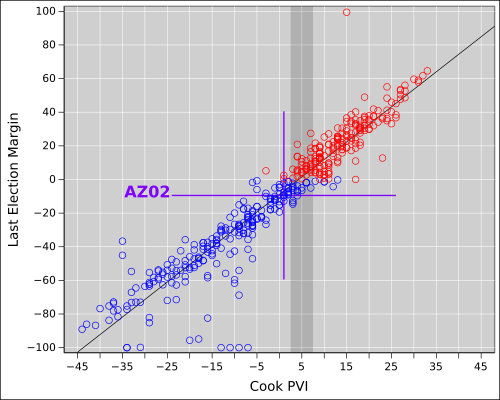 Figure 1
: Last Election Margin vs. PVI
Again and again, politicians say they can't support progressive legislation because their constitutents are R+1 or R+2. That's the answer to every question and the obstacle to every request. However, it's baloney several times over:
For one thing, republicans even from the bluest districts act like doctrinaire republicans – so why are you "compromising" with people who offer nothing in return? That's some really bad negotiating.
Secondly, and I can't stress this enough: R+1 or R+2 is not a red district! It's off to the blue side of purple. If you can't win as a progressive in an R+1 district, you are a really bad candidate.
Conversely, when a Democratic senator votes to confirm creeps like William Barr, or Andrew Wheeler, or David Bernhardt, or Mark Esper, it makes no sense politically. The only people who are pleased by such a vote are not allowed to vote in the Democratic primary, and would never in a million years vote for a Democrat in the general election, no matter what her voting record.
Memo to politicians: To a first approximation, everybody in Washington lies to everybody else all the time. But around here we play by different rules. If you go before a bunch of people who are predisposed to support you, and tell them stuff that isn't true, that's a good way to lose their support.
Don't tell us Arizona is a red state.
* References
I collected a bunch of data from disparate sources. I cleaned it up and made it available in a number of convenient forms, as described here:
www.av8n.com/politics/data-collection.htm
"Contest the Hard-to-Win Races"
www.av8n.com/politics/representative-behavior.htm