Issues, Not Demographics
John Denker
In terms of what should matter, in the interest of good governance, you don't want identity politics to be a significant factor. You want policy issues to dominate.
In terms of what does matter, recent presidential elections are open to a not-entirely-cynical interpretation: Although identity politics played a role, it was not the controlling factor. Obama got 43% of the white vote in 2008 and 40% in 2012. Romney got 78% of the Mormon vote in 2012, which is less than the 80% that George W. Bush got in 2004.
Therefore, anybody who analyzes things primarily in terms of demographics is (a) wrong and (b) playing into the hands of the bad guys. If somebody tries to strike up a conversation about demographics, change the subject. Anybody with any sense wants the discussion to be about issues, not demographics.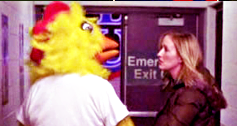 Figure 1
: Do not engage with the provocateur in the chicken suit.
It always amuses me when pundits list all the factors that "explain" the results of the last election, even though the same pundits were unable to predict the results beforehand. The factors have been well known all along, and did not change overnight on November 6th. It is particularly ludicrous to explain the recent presidential elections in terms of demographics and identity politics. If that were the controlling factor, in the 2008 election Obama would have gotten all the black vote, while McCain would have gotten all the white vote. McCain would have won with 535 out of 538 electoral votes.
Republicans keep trying to make identity politics the controlling factor. They euphemistically refer to this as their "Southern strategy". You might naïvely think the Democrats should try to win that game, but that's the wrong strategy. It's the wrong game. For multiple reasons, the smart strategy is to call attention to the issues. Plan to win on the issues.
In particular, you might think that long-term demographic trends would favor the Democrats. However, if you try to play that game, the Republicans will just nominate a Hispanic candidate, such as Cruz or Rubio. So don't play that game. Plan to win on the issues.
Under this strategy, politicians bear the responsibility of explaining the issues to the voters. I find it astonishing that anybody would pass an 800 billion dollar stimulus bill and then not explain to voters what's in it.