Non-Polarized Capacitor
John Denker
Question: Will two electrolytics back-to-back work as a non-polarized capacitor?
Answer: Yes. This is standard practice. Very common.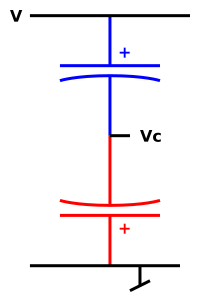 Figure 1
: Non-Polarized Capacitor
This technique was mentioned in class when I was a freshman. They spent about ten seconds on it. They said "it works" and left us to figure out the details, if-and-when we needed to. The remaining questions include:
How does this work?
In particular, what happens to the weird floating node?
1  Discussion
2  References
John Denker, "Gorge versus Charge"
www.av8n.com/physics/gorge-vs-charge.htm
John Denker, "Kirchhoff's Circuit Laws"
www.av8n.com/physics/kirchhoff-circuit-laws.htm
John Denker, "Capacitance"
www.av8n.com/physics/capacitance.htm