ELEMENTARY IRROTATIONAL PLANE FLOWS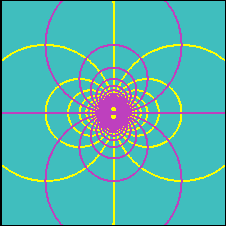 In the following, few examples of elementary irrotational plane flows are shown. Due to the linearity of the Laplace equation, superposition of these simple flow allows for the solution of more complex flow.
In all the examples, equipotential and streamlines are shown in yellow and magenta, respectively. These two families of curves always intersect at right angles.
In order of increasing complexity, we discuss:
---
INDEX