Review of
Chabay and Sherwood

Matter and Interactions
John Denker
Here are some notes concerning the book
Chabay and Sherwood
Matter and Interactions

, 3rd edition
John Wiley & Sons (2011)
This is just a collection of notes that I have accumulated. It should not be considered a book review. It is not by any means complete. Perhaps gradually it will become more complete and more balanced.
Note that a six-page list of known errata can be found in reference 1.
* Contents
1  A Few Dozen Observations
2  Big Issues and Recurring Themes

2.1  Limitations on the Range of Validity
2.2  "Matter" versus "Interactions"
1  A Few Dozen Observations
Note that not all of these items are bugs; examples of non-bugs include item 12 and item 15.
2  Big Issues and Recurring Themes
2.1  Limitations on the Range of Validity
By way of analogy, consider the two statements
In Euclidean geometry,

a

2 +

b

2 =

c

2
 
where

a

,

b

, and

c

are the sides of a right triangle        
and

c

is the hypotenuse

             (27)
If you are going to teach people that a2+b2=c2, you have an obligation to tell them that the result is valid for Euclidean right triangles only. This is important, because there are lots of triangles in this world that are not right triangles ... and lots that are not Euclidean.2
I mention this because this book contains a great many statements and equations that are perfectly true in context, but provide no hint as to the limitations on their validity. See e.g. item 17, item 66, item 74, item 75, item 90, item 100, item 113, and especially item 39 and item 117.
This is important! This is at least as important as anything else in the book. The primary, overarching objective of the course, as I see it, should be to teach students to think more clearly. That includes, among other things, recognizing the difference between (a) something that is true in all generality, as a fundamental principle of physics, and (b) something that is true in such-and-such scenario, because we chose to make it true.
It would help to remind students, more than once, that in physics, engineering, and everyday life, it is necessary to make approximations. It requires effort, skill, and judgment to tell the difference between a good approximation and a bad approximation. An approximation that works well in one situation might be disastrous in another situation. This is relevant because things that are exactly true (by hypothesis!) in a scenario might be only approximately true in the real world ... so there is a fine line between scenarios and approximations.
I don't care very much whether students learn this-or-that specific physics fact. I care a great deal whether they learn to think clearly. See reference 31.
In the book, for instance in chapter 20 (item 117), one should not assume that the students will be able to sort out which statements are fundamental laws of nature and which are merely details of the scenario. Students were not born knowing how to do this. Also, one should not assume the teachers who adopt the book will emphasize this. If the book doesn't emphasize it, why should they?
2.2  "Matter" versus "Interactions"
The "brand name" of the book is derived from the notion that all of physics can be categorized as either matter or interactions. Alas, this notion cannot possibly be true. This conclusion is supported by multiple lines of reasoning, all based on simple physics, including the following:
The emphatic assertion that «

Interactions cause change

» is problematic, as discussed in item 6.
We know from high-school chemistry that the mass of the helium atom is not equal to the mass of two protons, two neutrons, and two electrons. This is tabulated on the typical periodic table. There is a mass deficit associated with the binding energy. Therefore the "matter" we call helium includes the interactions in the nucleus. The same goes for every other element.
I'm trying to teach students about the unity and grandeur of physics. This is not made any easier when the book spends a large part of chapter 1 trying to de-unify things that have been unified for almost 90 years. I'm referring to the insight of de Broglie (reference 32), which was one of the all-time great breakthroughs.
Light deflected and/or redshifted by the gravitational field of a star – or galaxy or whatever – is an example of matter interacting with an interaction, which is quite inconsistent with the definitions given in the book.
Consider the apparatus shown in figure 4, which is based on Fig. 17-5 in Feynman volume II. The explanation is presented at the end of chapter 27-6; see reference 33. This is another example of matter interacting with a field, i.e. matter interacting with an interaction. Again this is inconsistent with the definitions given in this book.

Figure 4

: Momentum in the Fields

At many points, the book talks about the "Coulomb interaction" between two charges, so that there are two things and one interaction. In contrast, the modern (post-1864) way to think about the situation is to say that charge #1 couples to the field, and them sometime later the field couples to charge #2, so that there are three things and two couplings. The field is just as real as the two charges. This is a vastly better model of the physics. For one thing, it gives us a model that has no "action at a distance", so it can be consistent with relativistic causality. It also gives us a model that treats all electric fields on the same footing, including the contributions from charges as well as the contributions from moving and/or changing magnetic fields. To calculate the electrical force on a test charge, all you need to know is the electric field; there is no distinction between the so-called Coulomb field and non-Coulomb field.

This is relevant to the bar moving in a magnetic field, which is wrongly analyzed on page 851 of the book; see item 123.

This may also be relevant to the profoundly wrong energy-based "explanation" for Kirchhoff's voltage law, which is hinted at on page 751, explicitly emphasized on page 768, and repeated numerous times. See item 100. I conjecture that devotion to the notion of «mattter interacting with matter» could interfere with the concept of matter interacting with non-matter, such as particles that absorb energy that had been stored in a field. This particle/field concept is handled correctly on page 1003, but it is seriously mishandled in connection with Kirchhoff's voltage law (page 751) and elsewhere.

Kinetic energy must be classified neither as matter nor as an interaction, AFAICT, according to the ordinary meaning of the words.
Advection must be classified both as matter and as an interaction, AFAICT. It satisfies the definition of interaction given on page 48, although it is omitted from the list of "interactions" on page 3. In one of the examples (I forget where), refueling is explicitly cited as a possible way of transferring energy. There are various possibilities, some of which clearly must be classified as matter:

Suppose object #1 emits a photon that is absorbed by object #2. This is a classic example of an interaction between two objects, right?
Now suppose object #1 emits an alpha particle that is absorbed by object #2. Is that the same thing or not? Is an alpha particle an object, or is it an interaction?
Further suppose some water evaporates from object #1 and condenses onto object #2. Is that the same thing or not? Is water matter, or is it an interaction?

The physics of a mechanical harmonic oscillator is isomorphic to the physics of an electrical

LC

oscillator, where

L

plays the role of the mass, and

C

plays the role of the spring ... or vice versa! You can equally well let

L

play the role of the spring, while

C

plays the role of the mass. So, in the electrical case, which is the "matter" and which is the "interaction"? The question is unanswerable – which is OK, because the question should never have been asked in the first place.
As a general principle, note that it is fairly common to have two names for the same thing. For lunch I had chickpeas seasoned with coriander ... which is exactly the same thing as garbanzos with cilantro.
Bottom line: The physics is what it is and does what it does. Trying to divide the physics into "matter" and "interactions" is not helpful, because it is not an apt model of the actual physics.
Suggestion: The first chapter of the book could be made significantly shorter and better by dropping the whole discussion of the alleged distinction between matter and interactions.
   

It would be better to say – explicitly but briefly – that it is not worth defining "matter" or "interactions" ... let alone trying to distinguish the two. It's like chickpeas versus garbanzos. It's like coriander versus cilantro. The physics is what it is and does what it does.
This has been known in the literature for a long time. The basic idea goes back to de Broglie. See also e.g. reference 34, which mentions the "electron field".
2.3  Needless Radicalism and Needless Archaism
Note the inconsistency:
There are many cases where the book needlessly departs from convention and tradition. Examples include

de-numbering the equations,
calling the second law "the momentum principle",
calling conservation of energy «the energy principle»,
calling the third law of motion «reciprocity»,
claiming the vertical axis should be called the

y

axis,
shunning field lines and equipotential contours,
using eccentric angle-bracket notation for vector components,
placing highly eccentric emphasis on the alleged dichotomy between matter and interactions,
et cetera.

There are many cases where the book needlessly sticks with archaic traditions, even when the modern approach would be far simpler and far more useful. Examples include

an approach to special relativity that is more than 100 years out of date,
an approach to rotating frames that is almost 200 years out of date,
an approach to weight and weightlessness that is quantitatively incorrect and at least 98 years out of date,
a model of electric charge that is categorically incorrect and at least 80 years out of date,
a model of atomic structure that is almost entirely wrong and 85 years out of date,
et cetera.
Authors should be free to choose whatever approach they like, within reason ... but please let's not pretend there is any consistent policy behind these choices.
2.4  Finite Differences versus Calculus
On page v, the preface explicitly states that this book can be used in a course where calculus is a co-requisite rather than a pre-requisite. Therefore it would make sense to avoid calculus concepts (and calculus notation) in the early going. However, consider the following contrast:
On page 125, the limit Δ

t

→ 0 is explicitly taken, and calculus notation is explicitly used, in the form d

p

/d

t

.
On page 669 we see Δ

U

and Δ

x

, in a situation where d

U

and d

x

would have been more correct.
It seems weird to use calculus on page 125 and then avoid it 500 pages later.
This is not the only example. There are multiple places where the book implicitly assumes that Δy/Δx must be synonymous with dy/dx. See item 73 for an example. Indeed on page 71 this is expressed explicitly; Under the heading of «Why Not Just Use Calculus?» it says «we actually are using calculus». On the next page it backs away from this slightly, saying that the finite differences are an «approximate evaluation» of the calculus result. Still, in any case, I must insist that «approximate evaluation» is not the same as equivalence, especially when supposedly fundamental principles are being expressed, such as on page 49; see item 17.
This is a time-dishonored swindle. Reference 35 discusses an example where Newton used this swindle. There are lots of things that are true in the limit that are simply not true for finite differences. In almost all cases, using the finite differences introduces some errors. If you want to argue that the errors go away in the limit, you have to actually make the argument. We know the result cannot be taken for granted, because:
2.5  Great Man Theory
All too often, people who have not thought about the history of science attribute to Newton all sorts of ideas that that were figured out by Galileo and others. Similarly they attribute to Einstein all sorts of ideas that were figured out by Galileo, Lorentz, Poincaré, Minkowski, Debye, and others.
This may be a consequence of "Great Man Theory". This is a completely discredited theory.
Wrongly assigning credit is not a trivial matter. The idea that it is OK to wrongly assign credit causes serious real-world problems, as discussed in reference 36.
I mention this because of things like item 4, item 5, item 9, and item 10.
2.6  Field Lines, or Lack Thereof
2.6.1  Virtually No Field Lines In the Book
I cannot find any pictures of electric field lines or magnetic field lines anywhere in the book, even in situations where such a picture would be traditional and helpful. See e.g. item 79. This is intentional, as the authors explain in reference 28.
This seems odd. The concept of field lines has been around a very long time, longer even than the Maxwell equations. In four dimensions the concept works rather well. In three dimensions the concept is imperfect, but sometimes an imperfect picture is better than nothing. In any case, the concept is far less imperfect than some of the things that do prominently appear in the book, such as the lattices of little arrows that are used to represent the field.
2.6.2  An Example of Field Lines
By way of contrast, to get a feeling for the value of field lines, take a look at figure 5.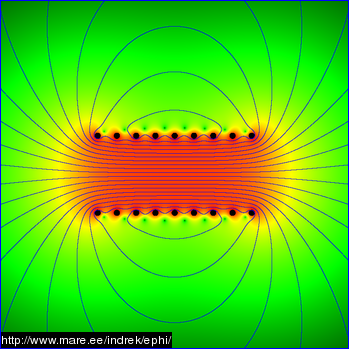 Figure 5
: Field Lines of a Loose Solenoid
There is a tremendous amount of information in this figure. As far as I can tell, there is no way to convey more than a tiny fraction of this information using a lattice of little arrows.
Let's be clear: A lattice of little arrows does have some value. As I see it, its primary value is as a preliminary step, as an aid to drawing the field lines!
Besides, figure 5 is just plain pretty. It's much prettier than a lattice of little arrows.
2.7  The Topology of the Field is Important
There are some places where the book tries to make a point about the global structure of the field, such as figure 18.33 on page 725. Alas, the book insists on representing the field using lattices of little arrows. The problem is that the arrows are disconnected and too few in number to permit the student to visualize the topological structure of the field.
This is a nontrivial matter. The statement ∇·B=0 has a rather profound topological interpretation. Similarly for ∇·E=0 in empty space. Specifically, on page 560, the field is divergence-free except at the origin, but this is not the least bit obvious from the diagram.
One place where there are almost enough arrows to show the structure of the field is figure 23.3 on page 949.
Ironically, another one of the few places that has a dense-enough distribution of arrows to permit some discussion about the topological structure of the field is in figure 17.85 on page 706. This is ironic because it is intended to illustrate a situation that cannot exist (not within electrostatics, anyway).
Another issue pertaining to the topological structure of the field is discussed in section 2.8.
2.7.1  No Equipotentials, Either
Additional information about the topological structure of the field can be represented by equipotential contours. As far as I can tell, the book doesn't do this either. The word "equipotential" does not appear in the index or table of contents, and google cannot find it anywhere in the book. Similarly, apparently it does not appear anywhere in reference 28.
The lattices of vectors that do appear in the book cannot be used to visualize the equipotential contours in any natural way.
The arguments in reference 28 about the problems with drawing field lines in two dimensions (for instance, in connection with a ring of charges) do not apply to drawing equipotential contours.
As a related matter: I reckon students should know how to interpret the contours on a topographic map. If they don't already know, it's high time they learned. This can be used as an example of physics in the real world, as an example of the unity of physics. The contours on the topo map are equipotential contours of the gravitational potential.
At this point we can spiral back to the definition of vector. As discussed in reference 24, there are actually two kinds of vector: pointy-vectors and one-forms. Column vectors and row vectors. Kets and bras. The closeness of the contours on a topo map, or on a plot of the electrostatic potential, is an excellent representation of the gradient vector, represented as a one-form rather than as a pointy-vector. This is important for innumerable applications, including maps, electromagnetism, thermodynamics, quantum mechanics, et cetera.
2.7.2  The AJP Article
The arguments in reference 28 are very incomplete and unbalanced. They fixate on the costs of dealing with field lines and wildly underestimate the value.
The article proves that field lines should not be handled in a dumb way, but comes nowhere near proving that they should not be handled at all. It proves that they can be handled badly, but does not prove that they cannot be handled well.
Field lines have a profound a topological significance, namely the continuity of the field lines. Drawing a bunch of little arrows here and there is nowhere near sufficient to portray continuity.
In section VI, the AJP article talks at length about all the things that can go wrong if topology is not handled correctly, but it quite unfairly downplays the value. The idea is all the more valuable because it applies to lots of things, not just field lines. The foundations of physics, namely the conservation laws, are essentially topological, insofar as they express the continuity of world-lines. Note that topological continuity can be expressed directly, in pictorial terms, long before students know enough math to do quantitative calculations using Gauss's law.
The AJP article contains many arguments against field lines, but many of the arguments are not as strong as they might at first appear.
2.8  Vector Attachment
In figure 8 and similar diagrams, the following rules apply: The black arrows represent a vector field. For each arrow, the black circle tells which point in the field is being described by the vector. We call this the point of attachment. The length and orientation of the arrow tells us the magnitude and direction of the field at that point.
For figure 8 in particular, each vector is plotted in such a way that the point of attachment coincides with the midpoint of the arrow.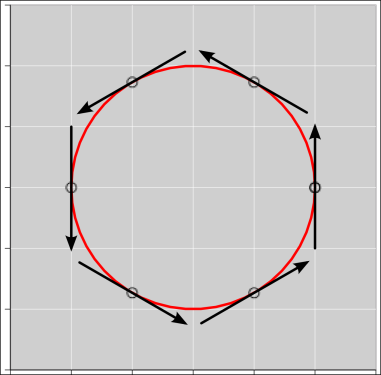 Figure 8
: Velocity Vectors Attached at the Midpoint
| | | |
| --- | --- | --- |
| For figure 9, the point of attachment coincides with the tail of the arrow. | | For figure 10, the point of attachment coincides with the tip of the arrow. |
The contrast is worth emphasizing:
In terms of fundamental physics, or rather mathematics, that all three of these diagrams represent exactly the same vector field. The field is being evaluated at the same six points, and at each point the direction and magnitude of the field is the same in all three figures. The locations of the black arrows mean nothing; only the magnitudes and directions are meaningful. (The locations of the points of attachment are meaningful, but the locations of the arrows are not.)
In terms of psychology and pedagogy, the three figures are very different. In terms of the art and science of "display of quantitative information", the three figures are very different. At first glance it "looks" like the vector field in figure 9 is spiraling outward, and that the vector field in figure 10 is spiraling inward ... neither of which is an accurate perception.

For most purposes, figure 8 is a much better depiction, insofar as it is easier to interpret correctly. In particular, suppose we are trying to depict a divergence-free field, such as a magnetic field or the flow of a conserved fluid. Figure 8 "looks" divergence-free. That is to say, it quite appropriately "looks" like the vector is just pulling you along a field line, with no tendency to pull you away from the field line.
I mention this because throughout the book, vector fields are plotted with the attachment points at the tails of the vectors. This makes some of the diagrams hard to interpret ... quite unnecessarily hard. See item 53 and item 125 for some conspicuous examples. Another example can be found on page 948, along with multiple examples on pages 949 and 950. Even the iconic diagram on the cover (figure 11) suffers from this disease.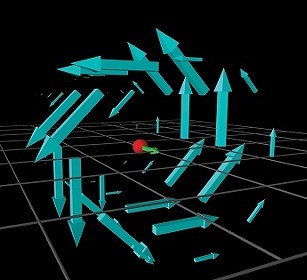 Figure 11
: Magnetic Field with Bogus Divergence
We see a similar phenomenon in the following figures, all of which are trying to present the same information. The true symmetry of the situation can be seen in figure 12 or, better figure 15, or even better figure 16. Figure 13 corresponds to figure 14.66 on page 580, and significantly distorts the symmetry, insofar as it makes it appear that the center of the figure is quite a bit higher than it really is. Figure 14 shows the opposite distortion.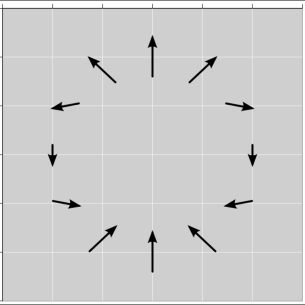 Figure 12
: Dipole Field Attached at the Midpoint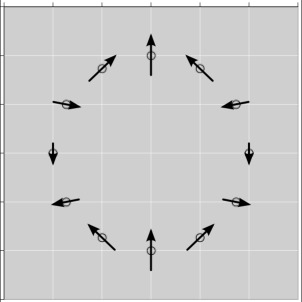 Figure 15
: Dipole Field Rooted at the Midpoint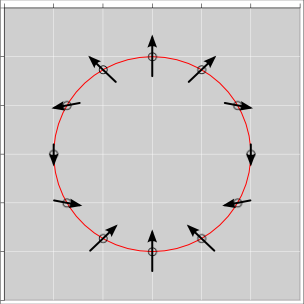 Figure 16
: Dipole Field Rooted at the Midpoint, with Circle
Another issue pertaining to the topological structure of the field is discussed in section 2.6.
2.9  Bogus Absolute Value Bars
If you start with a correct equation and take the absolute value of one side, or both sides, you make the equation worse, not better. Also, when doing a calculation, taking the absolute value is not an acceptable substitute for calculating the correct sign.
I mention this because in many places throughout the book, there are absolute value bars where they don't belong. Examples include item 13, item 98, item 120, item 121, and several of the errata in section 4.
A different sort of problem related to absolute values is discussed in item 89.
2.10  Regimentation Marches On
For his own use, the teacher (or the textbook author) is free to choose a reference frame – or a gauge – or a method of solution ... but other people are free to choose differently. Students are people too.
The teacher (or the textbook author) can even recommend a reference frame – or a gauge – or a method of solution ... but this should clearly be labeled as a recommendation ... not a law of nature. Other approaches should not be considered wrong.
Einstein said his teachers required Kadavergehorsamkeit ... the obedience of a corpse. Any sign of creativity or original thinking was ruthlessly suppressed. I've seen plenty of classrooms that still play by the same rules. They emphasize authority, conformity, and regimentation to the exclusion of almost all else.
I mention this because of things like item 32 and section 2.11.
2.11  Numbering the Equations
Apparently none of the equations in the book have equation-numbers. By all accounts, this is not an oversight. The authors are of the opinion that «it is a feature, not a bug».
Reportedly, the authors are worried about the following scenario: Some teacher is "lecturing from the book" and wants to refer to a particular equation. The authors wish to force him to write out the equation in full, rather than merely citing it by number.
I am astonished by the naiveté and utter futility of this wish. There is (at present) nothing stopping the teacher from citing "the second equation on page 56" – as the authors themselves do in the errata (reference 1). Another tactic is to cite "equation 670.42" which refers to the equation that is 42% of the way down from the top on page 670 – which is the technique I have used in these notes. Oh wait, my friend Simplicio has a suggestion:
In the next edition of the book, let's remove the page numbers as well! After all, why should the teacher be allowed to cite the page by number? We can compel him to write out the page in full, rather than citing it by number, just as we compelled him to write out the equations in full. Similarly, we should de-number all of the chapters and diagrams. We can compel the teacher to re-draw each diagram in full, rather than citing it by number.

 

That will teach 'em a lesson. That will show 'em who's important and who's not.

 

Heaven forbid that Suzy Q. Student would want to tweet a question or a remark about one of the equations. How dare anyone try to use the book in a way that was not foreseen and approved by the authors? It's shocking how uppity the riff-raff is getting.
3  Bugs in the Index
Suggestion: The authors (or the publisher) should hire somebody who knows what they're doing to deal with the index. There exist professional indexers who specialize in science texts.
Workaround: You may be able to use Google Books to search for things you want. The google machines are obviously devoid of judgment, and will therefore never take the place of a well-crafted index, but it's better than nothing.
Also note that google limits how much of the book you can see, and you can very quickly run up against this limit.
4  Errors in the Errata
This refers to the errata in reference 1.
5  References